Christmas Newsletter 2019
Berne Avenue
Newcastle-under-Lyme
Staffordshire ST5 2QJ

16th. December 2019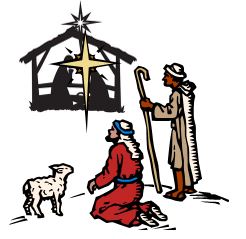 To all our friends and family
There has been a pause in the nearly incessant rain and suddenly there have been a few cold frosty mornings and sunshine during the day – so Christmas is nearly upon us together with the chance to write to our friends and family again. May we wish you and your family a most cheerful Christmas and a happy New Year?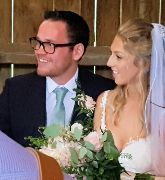 The highlight of our year was undoubtedly the wedding of our grandson, James, to his fiancé, MJ (Mary Jane) in a field barn slightly north of Truro in Cornwall in September. It was a very happy occasion for everyone, engendered by the obvious happiness that MJ and James felt together. It was further enlivened for us by seeing the whole family enjoying being with each other on a social occasion. It makes us wish that they all lived a bit closer together since they are self-evidently friends. James's brother, Charlie came from Calgary where he is engaged with a oil exploration firm. Will is in the other Newcastle both teaching circus skills and performing juggling shows round Scotland.
Our two German grandchildren, Sarah and Timothy seem to be progressing with their studies of computing, in Frankfurt, and Maths and Economics in Cologne. Felicity has bought a house in Norwich and is very keen on the garden there. Felicity is the Equine Behaviour Coordinator at the Redwings Horse Sanctuary where she mainly works on training horses of all ages, the majority actually being youngsters; our oldest grandchild, Fiona and her husband, Adam, seem to be vigorously pursuing their respective careers in teaching and as an actuary, and taking splendid walking holidays in Switzerland. Unfortunately we see little of any of them, but we do now seem to be serving as guarantors for various bits of real estate in both the UK and Germany!
Our three boys now straddle sixty in age and it amuses us to warn them about taking it easy at their age! It also emphasises how old we are – if I make it, I shall be 85 by the time you receive this! Paul is doing well on his own as a management consultant. Stephen still travels regularly to the far east for his firm – his responsibilities have widened to looking after the firm's subsidiary in Milton Keynes and he has visited us a couple of time on visits there. And Michael continues as a Senior Vice President with Total Oil. He is still in Copenhagen with frequent excursions to Paris, Moscow and the Yamal Peninsular among other places.
We have actually seen both Mike and Nicky a couple of times recently and did so again this week. Sadly Nicky's Dad died a week ago and they were here for the funeral. It was not a surprise; happily John was able to get to James's wedding (he is the other grandfather) but deteriorated after that. It is nevertheless a sad happening, and yet another mortality reminder as he was almost exactly the same age as Peter. There was an nice service in Whitmore Church and a lively wake at Slater's, since John had been very active in village life. Nicky rotates between Copenhagen, Paris and Bristol keeping a home together for her scattered but mobile family.
Conny is busy is Duesseldorf providing help for a refugee family and also helping with what appears to be the citizen's advice bureau. New arrivals in Germany have added trouble since few speak the language and there is a fair amount of form filling (and understanding) particularly with the children starting school. Having access to someone like Conny must be a real help.
Rosalind and Paul continue to care for the girls' ageing horses which involves five mile drives, morning and evening, as well as the hard work involved. Unfortunately Ros has had back troubles recently and been unable to function so Paul has been looking after much of it.
After the wedding we had a short holiday in St Ives from where we visited Lands End, the Telegraphic Museum at Portcurno and St Michael's Mount. It was our second time this year at the seaside as Stephen and family invited us to meet them at the Hague in May. The beaches were lovely, as were the spectacular fields of Tulips.
We are both reasonably fit, although I did spend four days in hospital with a mild heart attack about a month ago. An angiogram showed that not much had changed in the main vessels over the last couple of years, so the pain was in minor heart arteries. Contrary to the doom and gloom on the news, I was well looked after by the NHS here and rewarded with still more medication.
We had the feeling that we were doing less walking this year but the web site still shows a lot of activity although we probably walk shorter distances now. We have had some memorable trudges up Shutlingsloe and over the Great Orme. There is however an all pervading weariness that follows any activity.
Some of our walks are linked to opera trips so you will find on the web site that we still make use of our opera season ticket by going regularly to Munich. We also saw a couple a Wagner operas in Bayreuth when our names came up in the ticket "lottery" there. While we usually go alone to the opera, we occasionally meet Christa and Paul from Garmisch in Munich – we met Ian and Richard from London for an Opera North production in Nottingham and, on Sunday, we went with Susan and Tony for an emotional production of Poulenc's Dialogues des Carmeliten at the RNCM in Manchester.
Having stopped after sixty years, I was inspired by Greta Thunberg to return to lecturing and gave a talk to my Probus Club on why we need to be doing something about climate change now! Having made an injudicious remark to a colleague, I was responsible for some heated exchanges for which I feel ashamed. But I am still down to give another talk at a neighbouring club in April. While I hope this will be more amicable – I still hope the message goes home – something must be done now about fossil fuels if our grandchildren are not to suffer inordinately for the lack of foresight of, and waste by our generation.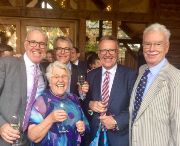 We are invited to join our Düsseldorf family for Christmas but, unfortunately, we have decided to heed the medical advice and try to take it easy at home instead.

Once again: our very best wishes to you and your family.

With much love to you all.

Patricia and Peter
---