Christmas Newsletter 2012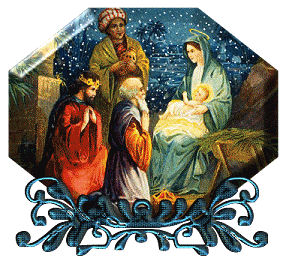 6 Berne Avenue
Newcastle-under-Lyme
Staffordshire ST5 2QJ
15. December 2012



To all our friends and family
We should perhaps have realised that it was going to be a wet year when, most unusually, we were driven back by torrential rain from walk along the Hamps on New Year's day. And as I write at the end of November, half the country seems to be flooded. But this morning, it is brilliantly sunny with a bright blue sky, ideal to think of you and to wish you a very happy Christmas, and a prosperous New Year.
Despite the impression that it has rained the whole year, unexpected warm weather in March got the vegetables to a flying start and we had good yields, except for beetroot which seemed to have a virus, and the apples for which the pollination was inhibited by the weather. And looking at the pictures of the many walks we have taken this year, nearly all seemed to have been in bright weather uncurtailed by rain - so it can't have been that bad!
We didn't take a major holiday this year but paid a number of visits to friends and family around the country. It was a real pleasure to find my brothers, both now more than ninety, pretty fit, but sad to find several friends in poor health, a necessary consequences of our ages, I'm afraid. In April Brenda, an opera going friend, was sadly diagnosed with pancreatic cancer. Happily we were able to have a number of cheerful get togethers with her and Tony, including visits to local gardens and the monkey park, before she succumbed and died in the hospice a week or so ago.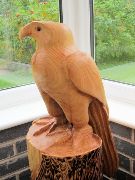 One thing that Brenda fell in love with was our new red cedar hawk, Horus, which was carved for us by Joe Nomad, a carver whom we found with his lady, Caroline, living in a caravan on a lay-by near Builth Wells. Horus is intended for the centre of the lawn but is at present living in the conservatory. It seems too wet for such a splendid bird outside, though his wood would probably be better out in the damp, than in the dry house.
We had a lovely skiing trip by car to Austria in January. Conny, our daughter-in-law came as a lively, cheerful companion for us, which was nice since Pat had a poorly back and didn't ski. Another trip took us to Munich in July to enjoy the four-opera Wagner Ring. As always, the music was wonderful and the production not too bad, apart from the unnecessary sixty extras who, at one stage, performed silent stamping ballet for six minutes to a cacophony of booing. We went with four friends from Garmisch and enjoyed dressing up and having elaborate picnics in the garden of an adjacent church.
There were further opera festivals - Buxton as always in July, Llandudo (Welsh National) in March and November and, for the first time, to Wexford in November. The November frenzy culminated, after Llandudno and Wexford, with six consecutive nights out - twice to Opera North (Lowry, Salford), once to the RNCM (Manchester), a concert at the Victoria Hall (Hanley) for which we were given tickets, The Messiah (Nantwich) and finally to Mold, in North Wales, a spontaneous trip to see again the two modern operas we had seen three days before at the RNCM. It is a quiet period now!
We did enjoy the Jubilee and the Olympics. With the games, I think the excitement was enhanced by the relief that the arrangements were not a shambles or embarrassing - and what achievements! Despite the efforts of the media to distract one, it was television at its best, showing people doing things to perfection.
As well as skiing with Conny, we have had two visits from our German family. They all came at Easter and then Stephen and the children visited in August when the Sarah and Timmy went to an Outward Bound course in Wales. It was grand to be with them and actually to get to know the two grandchildren a bit better. Sarah, who spent a most successful year in Canada is still at school but has just become a British subject - she had to apply since, Stephen, although of course British, was born outside of the country in the Princeton, NJ. Timmy who is doing well at both school and golf may well follow suit, though I think he will maintain his allegiance to the German football team! Stephen still commutes regularly to Far East maintaining his markets in anodised aluminium.
We visited Mike and Nicky in Paris on our way back in the winter - and then later in Bristol where they have bought a splendid Georgian House close to the Clifton suspension bridge. We visited James, their second son, at Loughborough in January and then in the summer at Bristol. Unfortunately he failed his repeat year and is now at home trying to decide what to do. His brother, Will, is in his final year at Edinburgh and Charlie is Deputy Head boy at Malvern. Michael maintains the house in Paris and still commutes to the East on his oil business, meeting during the year, we believe, with the Presidents of Kazakhstan, Russia and France!
Felicity, Paul's daughter, got a good degree in Animal Behaviour from Bristol and is busily occupied with a variety of jobs as she seeks something permanent. Fiona and her partner Adam are prospering, we believe, in Bath. Their Mum is wholly occupied with the horses - and Paul has taken up riding. Paul seems to have taken on more responsibility within the Insurance firm for which he works.
At home, we have extended our web site to include pictures from the early sixties; the boys look charming and we feel that perhaps we were not such bad parents after all! We've renovated our laptops, changed our smart phone and our broad band - and I now seem to be computer and phone consultant to several very competent ladies in the vicinity. Pat still reads for the talking newspaper and goes to the U3A book club. We also produced a glossy brochure for the local National Trust group - and ran a splendid sunny lunch for retired members of the Royal Society of Chemistry in March.
At Christmas, we are expecting to be here and, weather permitting, tramping the hills; we are invited to Bristol for the weekend before.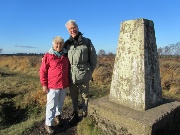 This year has emphasised how fortunate we are still to enjoy such good health. When we two are out together on the hills in Shropshire, Cannock or the Peaks, and the daily trivia are forgotten, and the day is bright, it feels to both of us as if we are as close to heaven as we shall ever be. We do sincerely hope that you too still have such blissful moments to enjoy.
Patricia and Peter
---